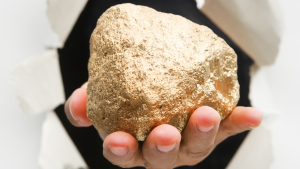 Holy cow, for all of you wasting money on the Powerball hit the mountains instead. Read this story:
Berek Sawut, a Kazak herdsman from Qinghe County in Altay Prefecture told Chinese news agency Xinhua that he found the giant nugget "practically lying on bare ground." The area is in China's far western Xinjiang Uygur region.

That gold nugget, assuming it's at least 80% pure, would be worth 1.6 million yuan ($255,313 U.S. dollars), says Xinhua, which also points out that a 1.84 kilogram nugget was discovered in the region in 2010. Gold GCJ5, +0.59%  for April delivery was trading at $1,261 an ounce on Thursday.
More Here.