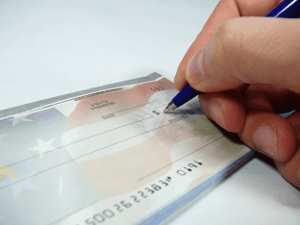 There's nothing worse than checking your account balance and seeing you've been hit by outrageous fees for the stupidest things. Seriously, it feels like you have to jump through a million hoops, such as having an account open for a certain number of months, signing up for online bill pay, staying under a certain number of transactions, and so on, just to enjoy the "free" checking account your bank promised you.
As the Internet has evolved and technology continues to advance, however, a number of banks have introduced robust and easy to use online checking accounts that are not only 100 percent free, but provide excellent interest rates and perks as well. In fact, here's the rundown on some of the best free online checking accounts available today.
USAA
The United States Auto Association is known for providing members of the military and their families with insurance and financial products, but they also offer several other products, such as checking accounts, that are available for the masses to take advantage of.
USAA's free checking account is linked to over 60,000 ATMs that can be used free of charge. Furthermore, as a USAA free checking accountholder, you become eligible for reimbursement up to $15 to pay for any fees charged by other bank ATMS. To top it all off, they offer free unlimited Web Bill Pay, a phone app for easy account management, and easy deposit options as well. Combined with top notch customer service, USAA's free checking account is definitely worth considering.
Capital One 360
The Capital One 360 free online checking account is tough to beat. Not only does it earn interest just like a savings account, but there's no maintenance fee whatsoever, the website is incredibly easy to use, and making deposits is even easier. When you also consider the fact that a Capital One 360 account provides you with access to thousands of free ATMs to use at your leisure, it becomes apparent why more and more people are ditching their brick and mortar banks for Capital One.
EverBank
When it comes to paying interest, the folks at EverBank are far from shy, paying 0.88 percent on balances under $10,000 and more for higher balances. In addition to offering a higher interest rate than what is typically offered for most money market savings accounts, EverBank also provides a Yield Pledge guarantee, ensuring your account will yield a better return than 95 percent of the competition. Talk about putting their money where their mouth is.
Ally Bank
Another online institution offering a free interest-bearing checking account is Ally Bank. With no minimum opening deposit, a free MasterCard debit card, no monthly maintenance fees, and the ability to conveniently make eDposits from your smartphone, it's hard to go wrong with an Ally Bank account.
Mutual of Omaha Bank
Most people associate Mutual of Omaha with insurance products, but the longstanding Nebraska-based company has been providing folks with banking services for decades and has some pretty sweet offers for new customers. In fact, one such offer is a free online checking account that only requires a meager $100 opening deposit and pays an interest rate of 0.50% APY. Plus, they provide a free order of checks and access to a network of nearly 23,000 ATMS.
Bottom Line
Traditional checking accounts are slowly becoming extinct in today's world. Long gone are the days of getting a free microwave for opening an account. Today, you get blindsided with absurd fees that chip away at your balance. Thankfully, online banking has emerged as a moneysaving alternative, allowing you to kiss your greedy brick and mortar bank goodbye and begin enjoying a free and rewarding banking experience. Oh yeah, I almost forgot to mention that all of the online checking accounts mentioned above are FDIC insured, so you really do have nothing to lose and everything to gain.